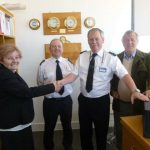 National Coastwatch Institution (NCI), based at Fleetwood, recently received an important donation from Fleetwood and Cleveleys Lions.
Following a presentation to the Fleetwood based charity organisation, NCI were donated an Uninterruptible Power Supply (UPS). The Lion's local President, Mary Ann Woodman and Paul Keirby, the Lion's Welfare Chairman, visited the NCI station at Fleetwood, to hand over the gift.
The UPS ensures that vital electrical equipment doesn't 'crash', in the event of a power outage or surge. This would become especially important, if the break in electricity supply came in the middle of an incident. Vital equipment, like VHF radios, weather station and radar, would continue to function.
Steve Martin, the NCI Station Manager at Fleetwood said '' Receiving this type of support from the local community means a lot to the members of the team. This piece of equipment, ensures we'll be able to give continued coverage when required. We can't thank the Fleetwood and Cleveleys Lions enough for their very generous donation''.
Total Page Visits: 449 - Today Page Visits: 1