The newly appointed High Sherrif of Lancashire, the Honourable Ralph Asheton, kindly agreed to present the long service awards to our eligible members this year.
Members receiving the 5 year award were:
Ann Davies, David Croall, Stuart MacGregor, Nicola Allatt and Charles Hill.  Well done to all.
Of note this year, John Lagette completes 10 years Service and has decided to hang up his binoculars.  In his 10 years John has always been keen to help in many areas not least of which was his tenure as the Training Officer.  We wish him well for the future and he is always welcome to visit at any time should he wish to do so.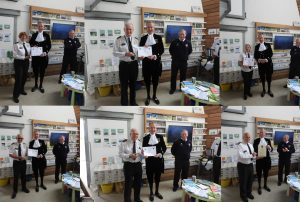 Total Page Visits: 16252 - Today Page Visits: 3