Friday, February 22, 2019 – 12:15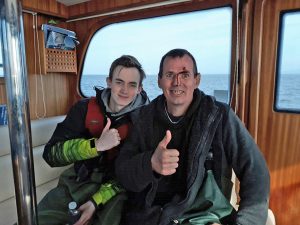 Watchkeepers at Fleetwood raised the alarm with HMCG Holyhead after spottting a dinghy reported by Wyre Rangers which appeared to be in trouble near Kings Scar.
A vessel in the area, 'Island Spirit' skippered by our very own David Croall, was contacted by HMCG and asked if he could be of assistance.  Island Spirit proceeded toward the casualties and some 10 mins later came alongside.  The dinghy's 2 occupants were taken on board Island Spirit and she proceeded to tow the dinghy back to Fleetwood Marina.
The weather at the time was Fair:  Wind SE / F4 SS slight Cloud 3/8 Vis 8nm Baro 1031.97.
As can be seen one of the casualties had a head wound and the young man had been very seasick.  They reported the following to David
"We are hugely grateful to Fleetwood for calling this in.  We were in real difficulty being blown offshore and pretty exhausted".
Well done to all involved.
Total Page Visits: 614 - Today Page Visits: 1