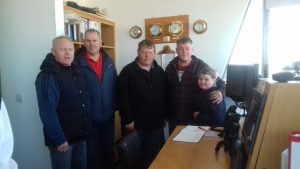 A small motor launch with 2 persons on board sank suddenly on Sunday 11th Novemeber at approximately 1240.  The vessel position was 241degrees Fleetwood Tower Range 2.3 nm.
A nearby vessel the 'Pisces' spotted this and reported to HMCG Holyhead; Fleetwood confirmed this by telephone to HMCG. Pisces very quickly reached the 2 people and got them on board.  The 2 people were subsequently transferred to the Fleetwood Lifeboat for return to shore.
The Pisces crew and one of the rescued persons later visited the tower to thank all concerned.
Total Page Visits: 582 - Today Page Visits: 1