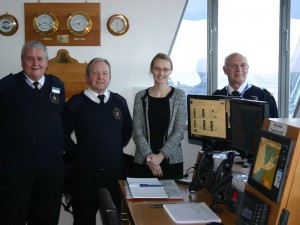 On Friday, 15th January, local Member of Parliament for Fleetwood and Lancaster, Cat Smith, visited the Fleetwood Observation Tower, home of the National Coastwatch Institution.
After hearing of how NCI was formed and the work of the volunteers, she was shown the high level of equipment used by the Watchkeepers and informed on the training given at the Nautical College, Fleetwood. This ensures the annual assessment, the Declared Facility Status (DFS), is passed each year by the volunteer Watchkeepers.
Along with the equipment used for keeping watch over Morecambe Bay and the ever shifting sand banks near Fleetwood, Cat was also shown the defibrillator, purchased by NCI and it was explained that there were around 30 Watchkeepers trained to use it, if required.
The MP passed on her best wishes and thanks to the volunteers for the work they do at Fleetwood and hopes to return again soon.
Total Page Visits: 930 - Today Page Visits: 1